The insights and tactics that created new opportunities for Winnie — and a solution to the childcare crisis
Let's take a walk down memory lane. When we started Winnie back in 2016, we knew that this new generation of millennial parents was fundamentally different from those that came before. The vast majority of millennial families don't have a stay-at-home parent [1] even though the demands of parenthood are higher than ever [2].
Understanding that local information and community were challenges for this more isolated, time-strapped generation, we created an app that allowed parents to share knowledge and search for resources nearby. In early 2017, about six months after our first launch, we noticed something interesting about the activity in our app — a sudden uptick in users asking for information about daycares and preschools.
Curious, we fired up Winnie's search logs and saw it there too. Searches for "daycare" and "preschool" were steadily climbing up. Finally, we turned to Google to look for any macro trends that might be driving this activity. This is what we found:
It was immediately clear to us that we had stumbled upon something extremely important — and timely.
We acted quickly. A few weeks later, we started building out our childcare platform. We compiled comprehensive information on every licensed daycare and preschool, starting with a single city: San Francisco. With Winnie, parents were able to—for the first time online—discover all the high-quality local daycares and preschools in their area and learn about their programs. Winnie provided access to detailed information such as availability, pricing, licensing status, and parent reviews for each program; information that was previously hard or impossible to find online.
Meanwhile, the market had continued to evolve in our favor.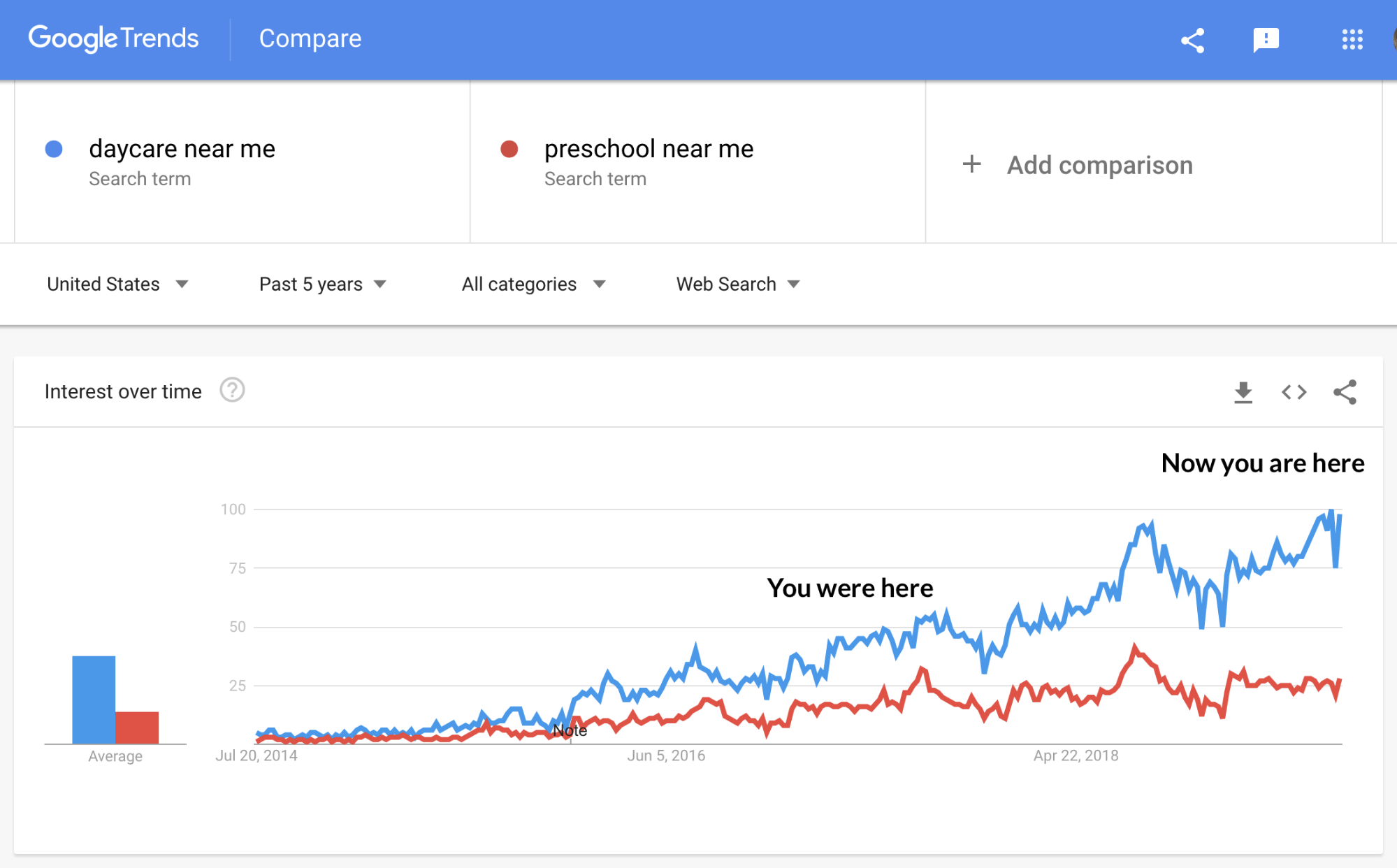 These search trends are not just an Internet phenomenon. They are indicative of significant growth in the sector, driven by social and economic factors in the US and globally. Childcare is no longer an optional service for this generation of millennial parents—a whopping 61% of children under 5 are in some form of regular care [3]. It's a basic need for the majority of families, yet before Winnie it was nearly impossible to find online.
What started with a simple insight from our users has turned into a massive opportunity to impact the lives of families everywhere.
Since we started building out our childcare platform, Winnie has scaled organically to over 4 million users, growing 15% month-over-month. What started in one city has grown to over 7,000 cities across the country. Winnie is now the largest daycare search platform in the US, helping match parents looking for childcare with high-quality providers who have open spaces in their program, while helping these providers run and grow their business.
We hear daily from parents that this platform is changing their lives—helping them find childcare closer to their home or work, helping them find flexible options that fit their needs, and helping them learn about less expensive, high quality care with availability.
But we're just getting started. Our vision at Winnie is to bring excellent childcare and early education to every family. Yes, every family.
To that end, we're thrilled to announce that Winnie has raised an additional $9 million in Series A funding. The round was led by Rethink Impact, a female-led firm focused on investing in female-led companies using tech to solve major global challenges. Additional participation in the round came from Reach Capital, Impact America Fund, Unusual Ventures, Ludlow Ventures, Afore Capital, Day One Ventures, Kairos, and April Underwood.
This round of funding will allow us to help more families, more childcare providers, and more early educators across the country.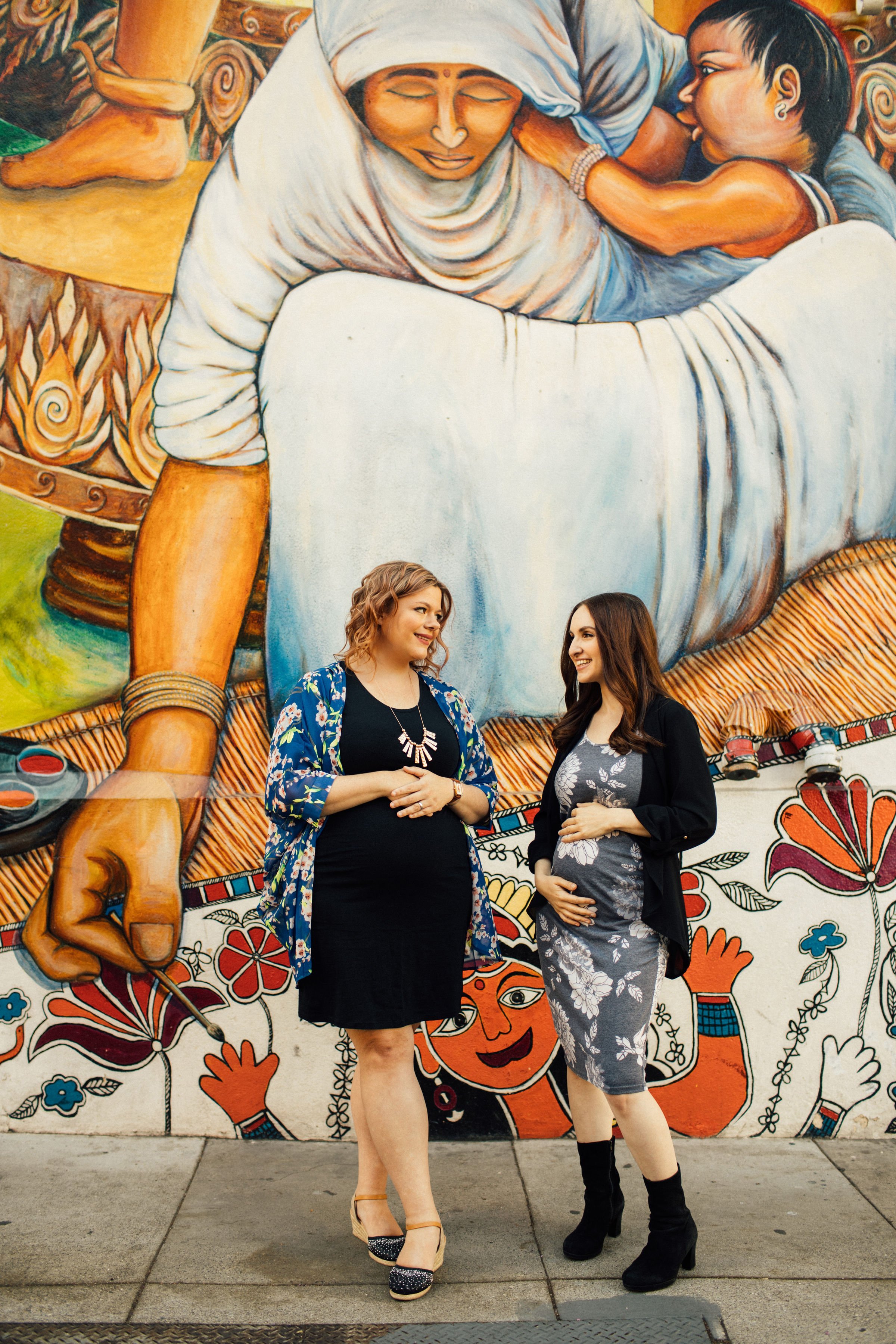 On a personal note, as both of us prepare to welcome our third child each, we know just how important great childcare is to being able to achieve your professional goals. Our research found that 81% of women say childcare issues are a significant factor in their decision to be in the workforce, and spending five years out of the workforce to raise children could cost women 20% of their earning potential.
We won't stop until every woman has the choice as to whether she wants to remain in the workforce, and that choice is not made for her because great childcare is too hard to find or afford.
—Sara Mauskopf and Anne Halsall, Winnie co-founders
[1] https://www.bls.gov/news.release/famee.nr0.htm
[2] https://www.nytimes.com/2018/12/25/upshot/the-relentlessness-of-modern-parenting.html
[3] https://journalistsresource.org/studies/society/education/child-care-arrangement-america-census-data/
Posted by Sara Mauskopf

Sara Mauskopf is the co-founder and CEO of Winnie. She's also the mom of two young daughters and another child on the way! Originally from Philadelphia, she now lives with her family in the San Francisco Bay Area.