When it comes time to choose a preschool, the options can seem overwhelming. Do you need an in-home daycare provider or a preschool program … and what's a Montessori school? These are all common questions we get from parents all the time, which is why we're diving into what Montessori is and how it can differ from other preschools.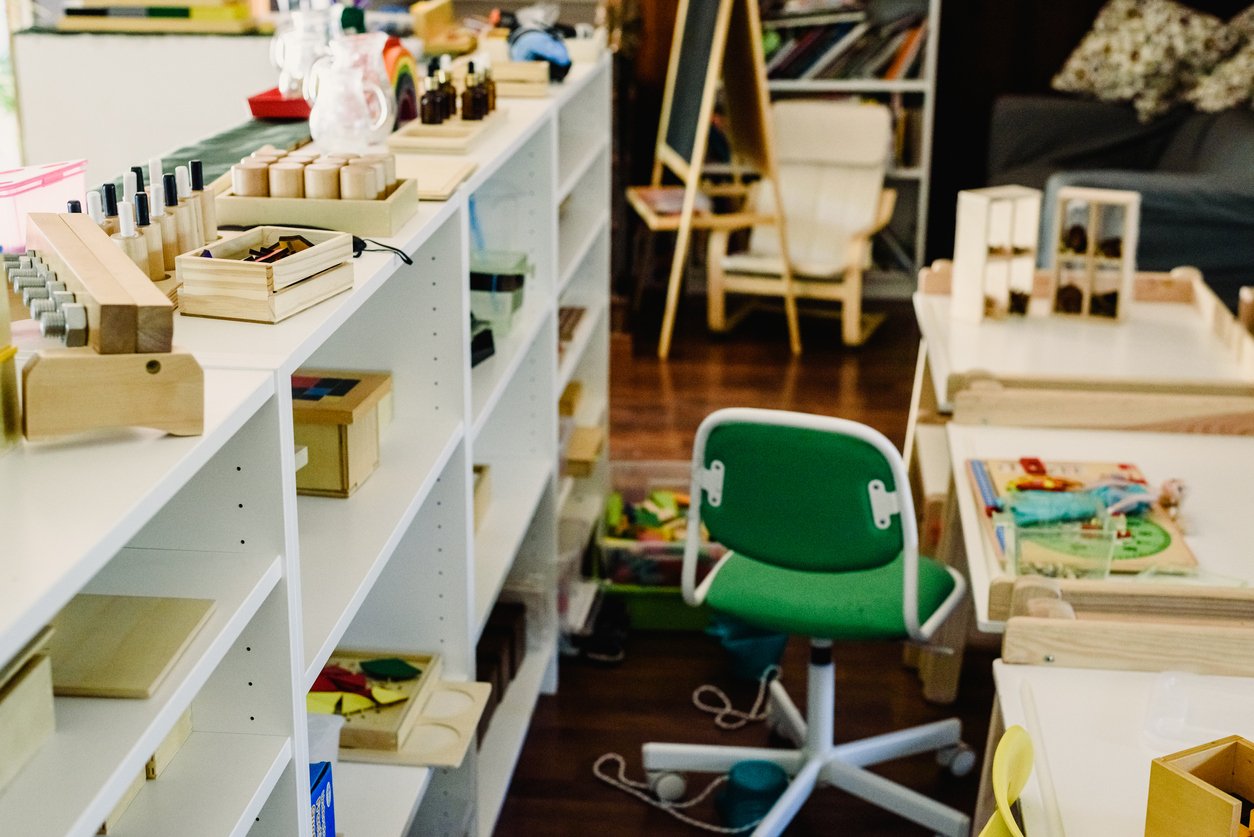 What is Montessori?
Montessori is a method of education that was started by Maria Montessori, an Italian educator, around 1896. Through her teaching experience and observations of children in her classroom, she developed her namesake method, which she used for her own school in Rome. By 1912, Montessori had come to America, but it really gained traction in the 1960s. Since then, it's been a popular institution in early childhood education.
Aside from the history of this educational style, Montessori is a type of early childhood education where exploration is front and center. Children learn by engaging with their environment and, based on what Maria Montessori and others have observed, they develop best when given the tools to explore on their own. Children can learn at their own pace in an environment that is specifically created to support them.
Of course, this may seem similar to a number of preschools or daycares, but Montessori stands out in a number of ways.
What are the differences between Montessori and preschool?
Some of the major differences between Montessori and traditional preschool include more active play, longer instruction times, and more one-on-one instructor attention in Montessori. There is also a broader age range of children in Montessori classes versus a single year in preschool.
If you're trying to decide whether to enroll your child in a more traditional preschool or a Montessori program, it can be difficult to tell the difference. However, there are a few components to Montessori that you should consider:
Active Play. In a Montessori setting, children have fewer lessons that involve solo writing, listening, or reading. Instead they're focused on active, hands-on learning in an environment that is designed for their specific motor skills and needs in mind.

Longer Instruction Times. Montessori programs offer lessons that are much longer than other curriculum. This is not to give more time to introduce more information, but to allow kids time to absorb the information they've been given without interruption. This allows deeper understanding and better retention.

One-on-One Interaction. A keystone of the Montessori Method is individual teacher attention. In other settings, a teacher may introduce a lesson to the whole class at one time, but a Montessori teacher will likely take the time to deliver a lesson individually. This allows each student to get a lesson that's more specific to them, which leads to higher engagement and better understanding.

Inclusive Classes. Most Montessori programs group children by ages (0-3, 3-6, etc.) so that they're engaging with children on different but somewhat similar levels. This integration allows younger students to learn from older students, higher needs students to get help, and so on.
What are the benefits of Montessori?
A major benefit of the Montessori method is that it is, in general, child-centered and less focused on a structured curriculum. This means higher engagement with children during the day, as well as more social learning experiences. Montessori programs also believe in child-led learning, which means that children with different needs will be considered individually, rather than compared to the class as a whole.
Studies also show that children in Montessori programs exhibit higher "executive function, reading, vocabulary, mathematics and social problem-solving" than kids in traditional preschool. Other studies also find that Montessori education "predicts significantly higher mathematics and science standardized test scores in high school."
Of course, none of this is to say that traditional preschools don't use similar methods, or that your child won't learn as much. The main difference between Montessori and other preschools with similar ideology comes down to certification.
Make sure it's a real Montessori program
For it to be a true Montessori program, the teacher leading the class must have an affiliation with the American Montessori Society. (If there is a school of multiple classrooms, the entire school should be certified.) Without this certification, a teacher may be familiar with Montessori methods but not actually trained in them.

If you believe Montessori is the right choice for you and your child, browse Montessori schools in your area. Not sure a school or program is officially affiliated with the AMS? The Society has a helpful affiliated program finder and we've created a resource to help you find the right Montessori school for your child.

No matter which preschool or educational style you prefer, there are plenty of preschool options in your area. Keep in mind that it's important to meet with school directors and teachers who will be caring for your child, regardless of the teaching style. This interaction is arguably just as important as the education your child receives. If a provider or program doesn't "click" with you, keep moving. Your instincts as a parent will let you know what type of education is right for your child.